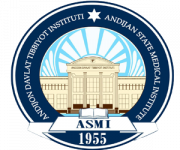 Dear entrants and dear parents!
Each of us lives with great dreams, noble goals.  In order to have a place in life, to be a person who will benefit our people, we need to study the secrets of science, to have a profession.

I am pleased that despite the coronavirus pandemic, the number of young people who want to study in higher education institutions and those who have applied to institutions this year has been very high.  In particular, 28 applicants were registered for 1 place for the academic year 2020/2021 to study at Andijan State Medical Institute.  This is one of the highest rates among higher education institutions in the country, as well as shows the prestige and potential of our institute.  In addition, it is clear that the debate of applicants will be fierce, and only the most knowledgeable and diligent ones can become students.
Based on the current epidemiological situation in the country, all necessary measures have been taken to ensure that the admission process for the 2020/2021 academic year will be organized transparent and fair.  For this purpose, more than 3,300 heads and teachers of public education and higher education institutions across the country are involved as group supervisors.
In the context of the coronavirus pandemic entrance tests in Andijan region will be held at the stadium "Barkamol Avlod" (formerly "Halklar Dustligi") in Andijan. Herewith, in full compliance with the sanitary and hygienic requirements, each entrant is allocated at least 3m2 of space.
Applicants will be provided with medical masks, rubber gloves, drinking water, snacks and pens at the expense of the State Test Center Development Fund.
Parents and relatives of applicants will not be allowed to gather in the waiting area and it will be  under supervision of the regional police, the National Guard and other relevant agencies, the testing process will be broadcasted online in the media and social networks.
Tests will be held in two shifts, during the cool hours of the day, all the necessary conditions for applicants will be provided.
Dear parents!
If two people come to the test with an applicant, the probability of getting sick with coronavirus doubles, if four people come, the probability increases four times.  So let the entrant come to the test alone, and let the parents and close relatives stay at home and expect to hear good news from applicants!
Stay at home and contribute to a high level of discipline and good mood during entrance exams to higher education institutions!
I believe that an entrant with good knowledge can become a university student with the highest scores.
Good luck to all young people!