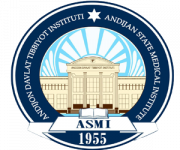 On 27 December, the Scientific Council of  Andijan State Medical Institute held a regular meeting of the Scientific Council .
The Rector of ASMI, Professor M.Madazimov and congratulated the staff of the institute with New Year holiday and wished all the best for them.  The institute was enriched with achievements  in all spheres in this year.
  Professors and teachers of the Institute actively participated in the  international competitions, scientific-practical conferences, international Olympiads and other spiritual-educational events. Due to these achiements  the award ceremony was held at the beginning of the scientific council.
Odiljon Salohiddinov, Professor of the Department of "Propedeutics Internal Disease" of Andijan State Medical Institute, winner of the best articles on «Develop a sense of respecting our spiritual values, a sense of saving  and developing our traditions and customs, our invaluable historical heritage among the young generation» was awarded the 2nd degree diploma of the newspaper «Kholis»
              The Women's Committee of Uzbekistan and the Association of Inventors of Uzbekistan were among the talented women of Uzbekistan conducted a competition   «100 Best Women's Projects of Uzbekistan» the winner ofin the Second Republican competition  «The best invention» docent, Mokhigul Jurayeva was awarded the 2nd degree diploma.
In particular, at  the end of 2018, Nematjon Mamasoliev received the honorary title of Academician of Academy of Sciences of the the Center of Traditional medicine  of the Republic of Uzbekistan , as well as professors, who were awarded the title of docent , student who became the holder of the state and renowned scholarship  in 2018 – Abdurashid Rustamjonov, Mehrinoz Urinbayeva and Gulmira Inomova were awarded diplomas and prizes.
For the active participation in the IV International Anatomy Olympiad within the framework of the III International Morphological Scientific- Practical competition-Conference  on «Morphology – the fundamental basis of medicine» dedicated to the memory of professor T.D.Nikitina at Novosibirsk State Medical University, The head of the Department of «Anatomy, Operaive Surgery and Topographic Anatomy» docent, Zafarjon Kakharov was awarded with gold medal and a «Thanksgiving».
The 2nd year student of the Therapeutic Faculty  Riona Sobirova was awarded the diploma of the 2nd degree in the nomination «The best scientific work» , Gulhayo Solijonova and Bakhtiyor Maksudov with 3rd degree.   They also received diplomas, cup and prizes awarded by the Institute for the third place at the International Olympiad on Anatomy.
The winners of the competition  «Best article» on the subject «Youth of Uzbekistan Against Violent Ideas»-  the 3rd year student of the Therapeutic Faculty  Sardor Ermuhametov, the 2nd year student of the Pediatric Faculty Abdurauf Abdurashidov, 1st year student Pirzoda Fayzullaeva were also awarded with diplomas and certificates.
In the work of the Scientific Council  according to the results of 2018,  rector of the institute M.Madazimov spoke about the concept of development of health system  in the Republic of Uzbekistan in 2019-2025, reforms in the sphere, problems and shortcomings and their elimination.
Also reports on scientific, educational, spiritual and educational affairs were heard. Relevant decisions were taken on the considered issues.