On December 1, 2020, an online dialogue was held with the participation of experts from the scientific publication Springer Nature. During the meeting, the sides exchanged views on the organization of scientific journals, their requirements and the level of articles. The rector of Andijan State Medical Institute gave a brief overview on the "RE-HEALTH JOURNAL" established at the institute. Representatives of the scientific publishing house made proposals for cooperation in the development of the journal.
G.M. Khodzhimatov, Vice-Rector for Research and Innovation of Andijan State Medical Institute welcomed the publishers' comments and said that future cooperation would be promising.
A.H. Abdurahimov, Executive Secretary of RE-HEALTH JOURNAL studied the recommendations of experts on bringing the scientific journal in line with world standards.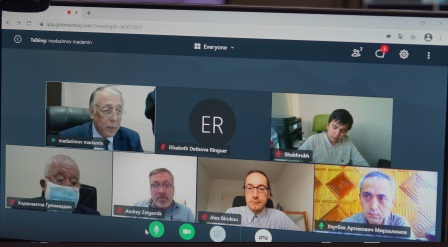 FYI: Nature was founded in 1869 and is the most cited scientific journal in the world, with more than half a million links a year. It is the world's number one multidisciplinary scientific journal with an impact factor of 41,456.
The publication covers millions of scientists and students from 4,000 educational institutions around the world, with 3.5 million users viewing 8 million pages on the Nature website every month.
The online dialogue with the participation of experts from the scientific publishing house Springer Nature plays an important role in the development of our journal.
ASMI information service