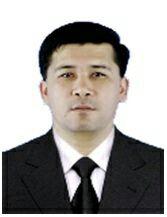 Tursunov Botirjon Kodirovich
Head of the Master's Degree Department, docent
phone: +998934111100
Email: adti_magistratura@umail.uz
     The Master's Degree Department of Andijan State Medical Institute was established in 2001 on the initiative of the rector of the Institute, Professor M.A. Khujamberdiev. At that time, five specialties were opened: obstetrics and gynecology, therapy, cardiology, pediatrics and 16 students were trained in these specialties.  Professors: M.A. Khujamberdiev, T.K. Mukhitdinova, D.B. Asrankulova, Z.S. Salohiddinov, K.D. Djalolov, F.Nishonov, A. Urinov, H.T. Musashaykhov, G.M. Khodjimatov, I.I. Alimdjanov, A.Sh. Arzikulov, O.S. Tashbaev participated organization of the educational process in these specialties. At the post of the head of the department worked:Professor K.T. Khudaiberdiev, Associate Professor U.M. Karabaev, Professor A.Sh.Arzikulov, Professor A.I. Khatamov, Associate Professor Sh.Kh. Khamrakulov, Associate Professor B.Yu.Mamatov, Associate Professor H.M.Mamadiev.
For the first time, K.T. Khudoiberdiev was appointed as the head of the department and thanks to his active work, the number of specialists increased annually.
    By 2005, the number of specialties had reached 13, including psychiatry, infectious diseases, pediatric surgery, general oncology, neurosurgery, hematology and transfusiology, dermatovenereology, otorhinolaryngology.
During this period, Professor K. Mirzaev and M. Tolipov worked  in the department and Nowadays M.L. Agranovsky, A.G.Gafurov, K.T. Khudoiberdiev, K.Soliev, Sh.A. Khamidov, A.Pakirdinov, S.Ibragimov, A.I.Alimov, K.K. Kasimov, docents: M. Yulchibaev, Yu. Tukhtasinov, A.K. Kurbonov, N.A. Akbarov, B. Rakhimov, B. Mirzakirimov, M.K. Sultankulova, D.Z. Mamarasulova, N.Yu. Mirzayuldashev, N.E. Yulasheva, F.Sh. Khamidov, K.P.Norboev, O.S.Yuldasheva, X.N.Nigmatshaeva, S.E.Djumabaeva, M.A. Djuraeva, D.Soliev, N.R. Uzbekova, M.Tojibeeva, G.Kodirova, I.Toshtemirova, M.E. Abdulaeva, M.Sh. Ganieva, A.Ganiev, N.E. Bozorov, A.K. Botirov, D.Ten, A.L. Kosimov, X. Khamdamov continue their work.  On the initiative of the rector of the Institute, Professor A. Shadmanov, in 2010 the number of specialties reached 21, new directions: neurology, urology, morphology, normal and pathological physiology, ophthalmology, pediatric neurology and narcology were opened.
    Currently, the Institute conducts training in 25 professions. More than 60 professors and doctors of sciences, associate professors and candidates of sciences work in the process of master's training.Since then, a lot of positive work was done to improve the quality of education in the magistracy.
     It should be noted that in 2005 the student of Master's Degree Department on pediatric surgery Sherzod Akhmedov, in 2005 the student of obstetrics and gynecology Nodira Mamazhanova, in 2007 Muzaffar Nasirov on surgery, in 2013 Zikrullo Ulmasov on neurology, in 2014 Yaho Ziyayev on oncology were holders of the scholarship The President of the Republic of Uzbekistan.
    Currently, 5 of more than 700 graduates of the master's degree have defended the candidate's thesis, 95 are assistants in the departments of the institute. In recent years, the specialists of the departments of the Institute have raised scientific contacts to a higher level, as a result of which the exchange of experience with the leading scientific institutions of the republic and foreign countries was widely established. Our students also went to these centers to study and introduce new innovative educational and medical technologies.
    For example, Zulhumor Kholdarova on the speciality of "General oncology" in Russian Cancer Research Center. N.Blokhin, on neurosurgery Erkin Khaidarov in Kirov State Medical Academy,Abbas Mamadaliyev in Donetsk National Medical University, Saydalikhon Khakimov in the Kazan Medical University with a degree in General Oncology, Khayot Kosimov at the Department of Otorhinolaryngology of Tashkent Institute of Postgraduate Medical Education specializing in Otolaryngology, Kudrat Tursunov and Akram Hakimov, specializing in Traumatology and Orthopedics, are in Tashkent Research Institute of Traumatology and Orthopedics, Mavluda Turgunova in Republican Scientific Research Institute of Neurosurgery, specializing in Neurosurgery, Guzal Soipova specializing in Methods of Instrumental and Functional Research at the Department of Functional Diagnostics of Tashkent Institute of Advanced Medical Education and Umida Ganieva is a student at Medical University of Nagoya, Japan with a degree in pediatric cardiology and rheumatology.